For getting that killer 6 pack on our abs, Tim Ferriss recommends that we do at least 10 myotatic crunches (video below). Normally, people would use a BOSU , or a half exercise ball.
BOSU's tend to be a little on the expensive side…and it seems to take up a lot of space.
Been searching the internet and guess what I came across? Yeap…you see that picture above? Weird looking thing isn't it?
It's called a 'Peanut Exercise Ball', or the 'Peanut', for short.
Great thing is, it's about 1/3 or less the price of a BOSU, and it's much more compact then both the BOSU and the traditional exercise ball. Just make it upright and you can tuck away it in a corner.
Great for you guys in the US…and the rest of the world. I tried looking for one in Singapore and everyone thought I was crazy. I'm stuck with my pillows for now I guess
Check out my 'Peallows' :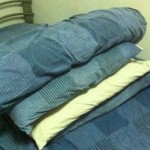 Comfy looking bed yea?
Now you know why I'm always late =D
Been doing the myotatic crunch for 3 days in a row now. Abs are a little bit sore…bit it's the good kind of sore because you can feel them abs rippin'!
Where To Get:
Within US: from Amazon.com (BOSU) (Peanut Exercise Ball)
How the myotatic crunch looks like with a BOSU