Top 3 Athletic Greens Alternatives
I think Athletic Greens is Great.
Simple in concept, fantastic potential!
Think about it…some of the most nutritious greens in the world, ground up into a concentrated powder. So, you get all the vitamins, minerals, bioflavanoids and other fantastic sounding goodness in just one small scoop of powder.
However….
1. It's only available in the US, Canada, and Europe (Free 20 pouches using these links)
2. To ship it monthly outside of these countries is still prohibitively expensive
It's a great product and many have used it with great results (review here).  So, if you're lucky to be in the above countries, feel free to get it by clicking on the respective countries as listed above.
For me though, I've done the calculations : I'd have to pay approximately S$140 (US$114-ish) a month if I were to ship it to Singapore. I feel that it's too much of an expense for me. I had to find similar alternatives.
After days of research and reading through numerous reviews (you have no idea..) , I decided on these three athletic greens alternative:
1. Vitamineral Green
This is my primary choice as an alternative for Athletic Greens. Let me give you the summary from a reputable green drinks review site:
Pros
One of the most robust and high-quality green drinks on the market…for an excellent price. Excellent quality of ingredients and lab standards. High in all important ingredients and no waste or filler. Comes in glass jars, not plastic.
Cons
None. This is the best formula on the market.
Many reviews sing to the same tune. You should read the user reviews at the given links as well. Lots of fantastic stories of short and long term gains.
I guess it's not surprising that this is also an award winning product as it has been voted for Best / Favourite Green Superfood by Bestofraw.net and Naturalnews.com
Vitamineral Green is a 'Truganic' product. Apparently, it's quite easy to get your products certified as 'organic' nowadays. Truganic products undergo very strict tests which Organic products don't go through, like having 100% GMO and Pesticide free verifications.
Comes in powder or capsule form. Capsule's convenient and great for those who can't stand the taste of grass. But I believe it's 1 more calorie for the capsule.
=3
Where to Purchase (500g or 400cap Bottles)
US/Canada: Amazon, iHerb
International: iHerb
Use the code 'ZEL439' at iHerb to save US$5 + 5% off your 1st purchase of US$40 or more
Vitamineral Greens in Singapore:
It's selling locally for S$124.95 (the bigger 500g/400caps bottle). Buying from iHerb is about S$78 alone w/delivery.
2. Green Vibrance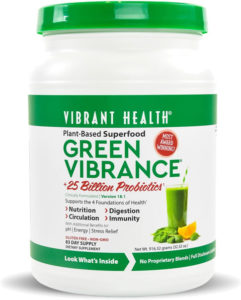 My secondary choice.
It's one of the original green drinks on the market and one of the greatest, with lots of good reviews to back it up.
A very good, well balanced formula with a large variety of greens and it is fortified with a good selection of herbs, such as gingko bibola and milk thistle.
Green Vibrance
US/Canada: Amazon, iHerb
International: iHerb
Use the code 'ZEL439' at iHerb to save US$5 + 5% off your 1st purchase of US$40 or more
3. Amazing Grass Green Superfood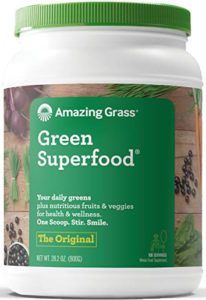 My third choice for a green superfood drink.
Does not have much in terms of herbal fortifications.
It is however, the most affordable amongst the three and, much like Athletic Greens, does an excellent job in covering the basics with a large variety of grasses.
Good if you're on a budget and want to have the basics covered.
Amazing Grass
US/Canada: Amazon, iHerb
International: iHerb
Use the code 'ZEL439' at iHerb to save US$5 + 5% off your 1st purchase of US$40 or more
Tips for taste:
I always keep a small bottle filled with freshly squeezed lemon juice so that I can quickly add a few drops when drinking plain water. A few drops into the green drink mixtures makes it much more palatable as well. Also, I like them with lemon tea because it adds nice earthiness and texture. Give these ideas a try!