"…unintended but significant reduction in body fat. I isolated the Policosanol over several weeks of further testing."
– Tim Ferris, The 4 Hour Body
Policosanol, the 'P' in the Four Hour Body's PAGG weight loss supplement stack.
It is a waxy compound of fatty alcohols derived primarily from plants, mainly sugar cane or beeswax, and is fast gaining a reputation as a natural alternative to statin drugs for lowering cholesterol.
Lots of studies claim that Policosanol helps to:
Lower Total and LDL (bad) Cholesterol
Raise HDL (good) Cholesterol
In my research, I found 2 small problems however:
Most of the studies were sponsored by Cuba, who were heavily invested in the success of Policosanol
Studies of Policosanol outside of Cuba weren't exactly conclusive
Using himself as a guinea pig however, Tim not only managed to replicate the colesterol claims, he accidentally discovered that it had some fat burning properties as well.
There doesn't seem be any real side effects, except for the accidental discovery that it helps burn fat. Tim recommends an optimal 23mg intake of Polisocanol once a day just prior to bed, with the last portion of PAG. With regards to fat loss, no improvements were observed when more than 23mg was taken, so there's no need to go above the recommended amount.
PAGG Constituants:
P – Policosanol        23mg
A – Alpha Lipoic Acid  ALA 100-300mg, R-ALA 50-150mg
G – Gren Tea Extract   EGCG 325mg
G – Garlic Extract        Allicin 3200mcg
Daily PAGG Intake Plan for Policosanol:
Prior to Breakfast – AGG
Prior to Lunch      – AGG
Prior to Dinner     – AGG
Prior to Bed      – PAG *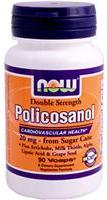 Tim Uses:
Now Foods, Policosanol Double Strength, 90 vegetarian capsules
Where to Purchase
Within US: from Amazon.com
Outside US: from iHerb.com
Use the code 'ZEL439' at iHerb.com to save US$5 off your 1st purchase
Too many pills? PAGG Made Easy. Click here to find out more
Singaporeans: For whatever reason, there don't seem to be Policosanol anywhere in Singapore. It's weird. I can't find it at GNC, Watsons, Guardian, Holland & Barrett and not even Nutripark and Nutrifirst. I've even tried some of the smaller supplement stores. Most of them never heard of it, so don't be surprised when the assistant gives you a blur look as a reply to your query. Anyway, you can click here and get it real cheap from iHerb.com