Athletic Greens Review and Comparison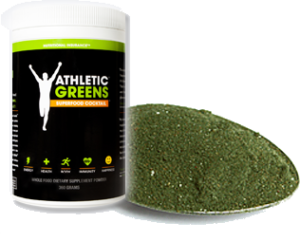 This is a Athletic Greens review. Click to get Athletic Greens here
Athletic Greens has been touted as the be all and end all of green superfood drinks. I mean, they are convinced that simply calling it a 'Greens Formula' is too passé, and that it should be treated as 'The Ultimate Nutritional Insurance' instead.
Now, I'm generally healthy with no serious ailments like gout or diabetes (thank goodness!). So while I can't make any claims about recovering from such ailments, I appreciate quality, and as always, want to put all the confusing information available out there into perspective.
I noticed one thing though, many Athletic Greens 'reviews' are more like endorsements, with only a few true, honest 'reviews'. (Plenty of copycats now eh? lol.)
I hope that by doing a proper review and comparison I can help you make an informed decision.
Here are the stars for today:
Healthforce Vitamineral Green
Green Vibrance
Amazing Grass: Green Superfood
Athletic Greens
The products used for this comparison were mentioned in my other post, Top 3 Athletic Greens Alternatives. They were chosen because of their generally popularity and reputation for being some of the best green drinks in the market.
There's one thing I won't do however, which is to go into a ingredient by ingredient comparison. It would confuse and over-complicate things because of the sheer number of ingredients and overlaps. Instead, I'll do a general feel for the different products and highlight important differences when required.
Let's get to it then. I'll break the whole review down into these categories:
Ingredients
Taste
Results and Feel
Cost
Summary
Overall Conclusion
1. Ingredients
Dosage
Vitamineral Green
1 table spoon per serving, though there's no indication of how many grams that is. I'd expect this to be about 10-12grams per tablespoon. It's very finely ground, among the finest of the 4. It also feels similar in weight to the 12grams of  Green Vibrance and Athletic Greens.
I don't know what came over me one day but I decided to take it without mixing it in water. I choked for about 2 minutes because it was up my nose and down my throat. So, yea, it's very fine. Definitely not as palatable as milo powder, straight from the can, lol.
Green Vibrance
1 tablespoon per serving at 12grams each. A measured spoon is provided for convenience.
Amazing Grass: Green Superfood
1 tablespoon per serving at 8grams each. This has the coarsest powder amongst the 4, probably explains why you get less per tablespoon. A measured spoon is also provided.
Athletic Greens
1 tablespoon per serving at 12grams each.
Superfood Grasses, Herbs and Antioxidants
Vitamineral Green
The problem with Vitamineral Green is that they don't provide a detailed breakdown of the amount of ingredients used. They recommend another product, Vitamineral Earth, to complement Vitamineral Greens. It seems like Vitamineral Earth's focus is on herbs, so even though there is some in Vitamineral Greens, I would expect it to be mostly greens, with the herbs in smaller amounts. Has some pretty good ingredients though, like Basil, Moringa and Nettle, so it's still a pretty robust formula.
Green Vibrance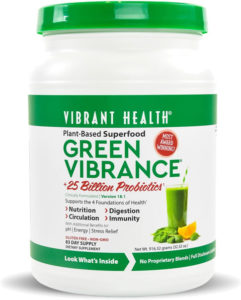 At first glance having 71 ingredients seem like a lot and that it should get everything covered. Once you look at the ingredients list however, you find that the formula is heavily biased towards grasses, with spirulina and wheat grass topping the list. That's not a bad thing, but it's a waste because they do have very good herbs and antioxidants in the mix, like Acerola Berry, Ginko Bibola and Grape Seed Extract, though only in trace amounts with little mineral support. An above average formula.
Amazing Grass: Green Superfood
The most basic formula with grasses with some antioxidants. The 'light and fluffy' ingredients, combined with its relatively coarse consistency, probably explains why you get less in a tablespoon.
Athletic Greens
A very robust and well rounded formula. Lots of grasses, herbs, antioxidants and minerals. Great ingredients like Grape Seed Extract, Acerola Cherry, Wolf Berry (Goji) and some pretty expensive ones like Co-enzyme Q10 and Siberian Ginseng Roots. It's important to note that if you take the amount of ingredients (as opposed to just the variety) into account, Athletic Greens has easily 3-4 times more herbs, antioxidants and minerals than Vitamineral Greens and Green Vibrance.
In short, it's less diluted with greens and grasses, and has more herbs, adaptogens, antioxidants and minerals per unit weight of powder.
Another important difference in their ingredients – they have many concentrated extracts instead of pure ingredients. You remove the excess fibre to get the nutrient essence. It's similar to traditional chinese medicine where the herbs are almost never consumed whole but are boiled down into a concentrate. It's like getting the goodness of a whole broccoli in a few drops. That explains why you get more goodies even though the serving amount is the same.
Digestives and Allergens
Enzymes – Helps break down food
Probiotics – Promotes bacteria growth for a healthy digestive system. Fundamental and more important.
Vitamineral Green
It has some digestives, using enzymes and probiotics in the form of Natural Soil Organisms or NSOs.
Its formula is free of GMOs, gluten, yeast, dairy and is vegan friendly. No indication of Soy though. They take pride in their 'Truganic' certification, which is supposedly much stricter and pure than being 'Organic'. So, practically speaking, you can consider Vitamineral Greens a 100% 'Organic++' product.
Green Vibrance
12 strains of probiotic cultures for a total of about 25 billion of the tiny little guys. Now, it's interesting because while it's certainly dairy free, it seems like most of their strains are dairy based. So, it's GMO, yeast and gluten free, vegan friendly and mostly made from organic sources, but it has soy-based lecithin and while it's dairy free, some strains of probiotics are most likely based on dairy.
Amazing Grass: Green Superfood
It has some enzymes and probiotics, but again, it's a very basic formula, so nothing to shout about. It says it's gluten and soy free as well as vegan. As for the rest, there's no indication, so it's probiotics could also be dairy based. Its ingredients are mostly organic.
Athletic Greens
Has good digestive support in the form enzymes and mushroom formulas. Though it may have fewer probiotics compared to Green Vibrance with 2 strains and a 7 billion count, it's not dairy-based, which is a plus point.
It's also very proud of being pure, declaring on it's label that it's mostly organic with no GMOs, herbicides, pesticides, synthetic chemicals, artificial flavours or colours, preservatives and sweeteners. It goes on to say that it has no wheat, dairy, gluten, corn, lactose, sucrose, dextrose, egg, yeast, peanuts or animal products. Even its lecithin is not based on soy. From here you can tell, they go one step further, making sure that not only is Athlete Greens free from allergens, but their ingredient sources are not based on allergens as well.
2. Taste
Vitamineral Green
Grassy and a little earthy. Imagine grass + mushrooms. Some may find it a little strong. Kinda like it though, but that's me.
Green Vibrance
Grassy and a little hint of fruits. Not as strong, slightly neutral.
Amazing Grass: Green Superfood
Grassy and light, easy on the palate.
Athletic Greens
Athletic Green's taste was the best bunch…which caught me by surprise. Never knew a great tasting green drink was possible! Tastes almost like a light papaya smoothie and goes surprisingly well with vanilla whey protein.
Taste is, of course, subjective. What may be good to me may be different for someone else. If you can't take the taste, try adding some fruit juice (not too much of course..sugar), or drop some lemon juice into the mix.
3. Results and Feel
I didn't want the benefits of the slow carb diet to seep into my results. So, I did this test on a normal diet, with junk food, over 68 days. Took each product for a 10 days, with a week's break between each product.  Note however that such products should be taken continuously long term for best results.
Vitamineral Green
The most obvious improvement after taking Vitamineral Green was bowel movements. Other benefits like alertness and energy came slowly, with slight improvement towards the end of the 10 days.
Green Vibrance
There was an obvious improvement in bowel movements as well. That should be expected because if nothing else, you're getting more veggies and fibre. Also a slight improvement in general towards the end of the 10 days. Can't really tell the difference between taking Green Vibrance and Vitamineral Green.
Amazing Grass: Green Superfood
Apart from improved bowel movements, I didn't really feel much difference with this product.
Athletic Greens
The difference for Athletic Greens was very obvious from day 3. I was much more alert and I could last longer when exercising. I could also wake up earlier with less lethargy even on a normal diet with lots of carbs. Digestion has improved as well.
Not only that, but the acne I started having a little acne at the side of my face a couple of months back was slowly fading away. Talk about 'seeing is believing'. Interesting.
4. Cost US$
Vitamineral Green
Average of about $50 for 500g or about 18oz, roughly a 45 day supply. Also available in capsule form for travel convenience.
Price can double or triple, depending on how many complementing products you want to get to achieve similar coverage.
Green Vibrance
About $60 for 60 days supply. Also available in capsule form for travel convenience.
Again, price can double or triple, depending on how many complementing products you want to get to achieve similar coverage.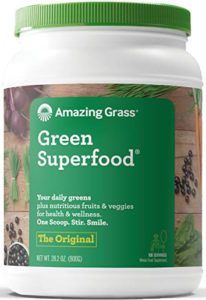 Amazing Grass: Green Superfood
About $38 for 60 days supply
Athletic Greens
1 bottle = 360g, 30 servings
1 Bottle – $127.00
1 Bottle (loyalty, monthly auto refill) – $97.00
2 Bottles Double Dose (monthly auto refill) – $177.00 or $88.5/bottle
Shipping not included, be prepared to spend at least $8, depending on the option you choose.
5. Athletic Greens Review and Comparison – Summary
Vitamineral Green
A high quality product created by an individual that's passionate about life giving foods. Complementing products are available to cover vitamin, mineral and other requirements. I must say that I'm a little disappointed, partly because I expected a lot from Vitamineral Green. In the end, it gave me similar results to Green Vibrance, for the 10 days at least.
Assuming both are equal however, Vitamineral Green really feels like a higher quality product, with very finely ground ingredients in a glass bottle. Their reliance on their higher in-house standards like 'Truganic' and its unique probiotic strategy also gives peace of mind.
Green Vibrance
A robust greens formula that's been fortified with a good mix of herbs, antioxidants and prebiotics, though there could have been more of it. Complementing products are available to cover vitamin, mineral and other requirements. Pretty good overall, and a good competitor with Vitamineral Green.
Amazing Grass: Green Superfood
A basic greens formula. It shows in its ingredients and hence, it's price. Complementing products are available to cover vitamin, mineral and other requirements. It's still a convenient way to get your daily dose of veggies, but you shouldn't expect much apart from that.
Athletic Greens
At first glance, it seems like the most expensive solution. However, after really studying it thoroughly, it's actually quite affordable. Why? Because Athletic Greens has the most well rounded formula, covering all the bases. Except for for oil based ingredients, like Omega 3 and Vitamin D3, which can't be added into the powder, there's no need to buy a 'complementing' product, and therein lies its secret. It's like getting a computer with all the best accessory options already in, or a premium package make-up set. Rather than get a cheaper formula and then 'topping-up' later, you get everything off the bat.
One can also appreciate the attention to detail. From non-allergen sources of ingredients to a surprisingly tasty flavour base using ingredients that are natural and beneficial. Most importantly however, the improvements from using this product is obvious..and that's what we want isn't it..results?
6. Athletic Greens Review and Comparison – Overall Conclusion
High quality ingredients with a solid mix of greens, herbs, antioxidants and minerals
High quality extracts allows all the important nutrients to be squeezed in the same teaspoon of powder
No allergens. Even ingredients are from non-allergen origins
Tastes surprisingly good
Gives results
Value for money, all-in-one, no 'complementing' products needed
I must say upfront that I'm not a fan of their pushy hyped-up presentation. That seems to form the bulk of complaints about Athletic Greens in fact.
Apart from that, the only thing that's stopping me from getting Athletic Greens monthly is availability outside the listed countries, or the lack of it. I was able to secure a bottle after a fortunate turn of events but despite my short experience with Athletic Greens, I can say that, in this case, there is no hype and you get what you pay for, which is a high quality product that's good really for your health and surprisingly tasty to boot.
Don't take my word for it, just look at the comments. Complaints are about the logistics while praises are for athletic greens itself, many from experience from competing products.
If Athletic Greens is not an option, I sincerely urge you to consider Healthforce's Vitamineral Green for quality, or Green Vibrance if you need something that's easier on the tastebuds. To get similar coverage as Athletic Greens however, you'd need to purchase quite a few complementing products.
Otherwise, Athletic Greens is a no-brainer, especially when you can try it for 60 days and get a refund if you're not happy. Remember to get their monthly auto refill program (aka autoship) for a monthly savings of $30.
2017 Update – Their site has been overhauled. Less hyped. Prices are indicated clearly on the site and test single orders no longer have automated billings attached to them. New customers, do let me know your experience with their new customer service teams as well!
Where to Purchase (Disclaimer)

Athletic Greens
Amazon – International


Vitamineral Green (Version 4.8, 500g or 400cap Bottles)
US/Canada: Amazon, iHerb
International: iHerb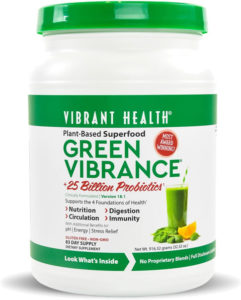 Green Vibrance
US/Canada: Amazon, iHerb
International: iHerb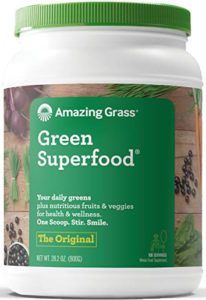 Amazing Grass
US/Canada: Amazon, iHerb
International: iHerb
P.S. – Earnings Disclaimer: Some people are questioning my integrity, which is a *good thing*, especially when one considers the amount of BS we're getting from the internet nowadays. All I can say is that I posted this review *before* I became an athletic greens affiliate, and I'm an affiliate of all the products I talk about here, including AG's competitors (which wouldn't make sense if I'm really an employee of AG, yes?). I find good products then become their affiliates, this ensures that I can maintain my integrity while making a living off of it. As per my Disclaimer, assume all links from this site are affiliate links.
If you don't want to use them, sure, feel free to visit their respective sites directly. If you found this useful and would like to support, do use the links here. The price to you is the same either way, though your support would definitely be appreciated, and in some cases you save even more (iherb discount code, for example).
I did notice a few more 'honest reviews' of AG now. Guess where they got their inspiration from 😉