Carb Free Noodles (Shirataki Noodles)
I love noodles. And Pasta.
Imagine how I felt when I discovered that 'Carb Free Noodles' was not a contridicting statement, but a reality!
But wait…how can that be? Aren't all things grain / flour full of carbs?
That's true. So these carb free noodles aren't made from the usual stuff like wheat. It's instead made from the root of the 'Konjac' plant, sometimes called the 'Devil's Tongue'.
And you know what's the best part? No only does it literally have Zero carbs, it's almost completely full of soluble fiber, known as glucomann. Yeap, so not only do you not get any carbs, you're helping your digestive system and it makes you feel full as well.
People. Looks like we can finally have our noodles..and eat it too!
Known as 'Shirataki' noodles in Japan, they don't require cooking. It doesn't taste exactly like pasta or noodles…more like rice vermicelli. You can make it more pasta-like by dry roasting though. That said, because it's essentially tasteless, you're able to enjoy the sauce fully and you do get that noodle feel.
I've personally cooked it like Aglio Olio (like the pasta) and when I had the craving, used it as a substitute for instant noodles, where I used the flavourings but tossed the carb-ridden noodles. Works great for steam-boat, shabu-shabu and stir-fry as well.
All in all, a great carb free noodle replacement for your favourite noodle dishes.
So people, carb free Shirataki noodles, great for the no carb, slow carb diets, feed and cheat days, or just a healthier alternative for your everyday meals.
A small note: as with all forms of consumed fiber, remember to drink enough water during and after consumption.

Types
Ito-Konnyaku – These are essentially the same thing but in blocks, like tofu. It's usually made from the whole Konjac plant, including the root and its 'yam', hence its greyish colour. You can slice it up and prepare it raw (like a japanese condiment) or prepare it like noodles as well.
Shirataki Noodles, White – These are made purely from the roots of the Konjac plant. 'Shirataki' actually means 'White Waterfall', what an apt description.
Shirataki Noodles, Grey – Similar to the Konnyaku, except in noodle form. It tastes a little different and is not as rubbery, though the difference is very minute, I'll bet most people can't tell the difference.
Shirataki Noodles, Tofu – You may find some 'Tofu-Shirataki' noodles around. As its name implies, it has added tofu and is supposed to make its texture more pasta-like. This however, adds a little protein and some carbs. I've just stuck to the normal Shirataki noodles.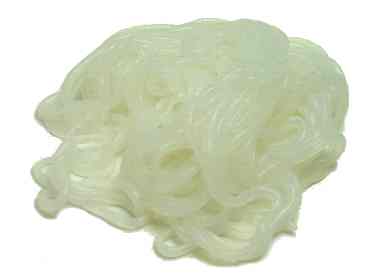 Preparation
First Time Rinsing – It's safe not to rinse, but doing so would give the noodles a bitter taste…which is not what you want.
Most of the time, you'll get an earthy smell after opening the packet of noodles and draining the water. That's normal. All you have to do is rinse the noodles in hot water. Feel free to squeeze them dry – they don't break and get squished easily like normal noodles do.
Dry Roasting – This is supposed to help make it more pasta-like and allow it to absorb more flavour. Note that dry roasting is optional, you can use it straight away after the rinse.
Simply plop them noodles into a hot non-stick pan, spread and let it sizzle. Don't worry about it getting burnt – I've tried to do it but have never succeeded. I usually let it sizzle for a couple of minutes and toss it around. A simple way to check if it's ready is to use a spoon or a fork and apply some pressure. When it's ready, you should hear a mini-squeal, like a mini kettle whistle. Roast it to your liking.
I find dry-roasted shirataki noodles very good for absorbing the flavour of steamboats and shabu-shabu.
Where To Get
US/Can/UK/Australia Offline – You can try the Asian or Japanese specialty stores.
US/Can/UK/Australia Online – Get it in all forms like Fettucini and even Rice at Miracle Noodle.
Also available on Amazon but a little more expensive, especially in large quantities.
Singapore – I've found them at Isetan Scotts, Meidi-Ya (Liang Court), Market Place (Paragon). I've even seen them at some Shop'N'Safe outlets. I've not tried Jason's but I wouldn't be surprised if they carried it so do check it out.